Hosthatch Response time
Is it ok with hosthatch to not response for 5-5days or more? I am using there service for years but rarely open tickets. Last time i need to increase bandwidth so i open a ticket. Abdullah responded but when i need to increase bandwidth, someone else responded with different condition. Which i consider ok. But then when i need final confirmation from them, they dont reply me for 5-6days yet. Here my invoice become overdue but they are not replying. Is it normal for hosthatch to not responding for weeks or this is just me?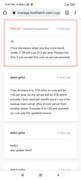 Never Build Character with Money & Never Ruin Character for Money.