☁☁ QuadraNet InfraCloud - Los Angeles, Dallas & Miami! Cloud Servers from $5.81/MO ☁☁
QuadraNet_Adam
Member
QuadraNet: Data Center Ingenuity, Made Simple.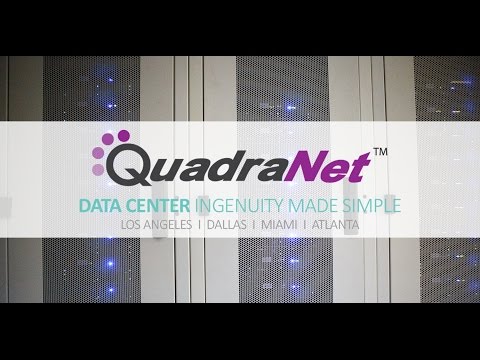 QuadraNet has released its new InfraCloud product in Dallas, Texas, and Miami, Florida, now offering cloud hosting in 3 geographically diverse locations!
As one of the leading providers of dedicated servers, colocation, and cloud hosting in Los Angeles, Dallas, and Miami, QuadraNet has been serving the hosting industry for well over a decade. QuadraNet's award-winning support is provided by our 24x7x365 NOC - your servers are online 24x7, and we'll be here to support them 24x7, guaranteed.
Billing rates:



vCores: $00.003555/Core

RAM: $00.000005/MB

Disk space: $00.000195/GB

Bandwidth (First 1TB Free!): $0.01/GB

IPv4 Addresses: (First Free!) Additional $0.002/hour

Looking to get up and running quickly, or need somewhere to start? Our Quick Plans can help!
InfraBlue


vCores: 1

Memory: 512MB

Disk Space: 15GB

Swap Space: 1GB

Bandwidth: 1000GB

Hourly: $00.0079

Monthly: $5.81

Available in: Los Angeles, Dallas, and Miami

ORDER NOW
More InfraCloud quick plans can be found via our website! http://www.quadranet.com/cloud
Test IP Addresses / Files:

Los Angeles - http://www.quadranet.com/company/los-angeles/

Dallas - http://www.quadranet.com/company/dallas/

Miami - http://www.quadranet.com/company/miami/

The InfraCloud Advantage
99.999% Uptime
Blazing fast storage platforms
Instantaneous scaling
Backed by our 24x7x365 phone and help desk support
Instant OS reloads via our 100% customized cloud panel
Multitude of OS options available

- CentOS 5, 6, 7

- Debian 7.0

- Fedora 18, 19, 20, 21

- FreeBSD 8.4, 9.2, 10.0

- Gentoo 12.1

- RHEL 5.9 or 6.4

- Arch Linux 2014.04.01

- Ubuntu 12.04, 13.04, 14.04

- Windows 2008 & 2012

New features include:
Secondary disk support – clients can now add a secondary disk to their instance and mount it to a mountpoint of their choosing.
IPv6 support – clients can now add an IPv6 interface to their network and then add a new IPv6 IP to the interface.
Asia Optimized IP support – clients can now add "AO", or "Asia Optimized" IPv4 addresses to Los Angeles cloud instances. These IPs use additional carriers that are optimized specifically for traffic destined for Asian countries.
Speed improvements – general work has been done to significantly optimize performance on the cloud website. Listing instances and performing tasks will now complete faster and the management portal as a whole should be far more responsive.
Snapshot support – clients will be able to create a snapshot of their InfraCloud instances, enabling them to perform full backups or restore existing snapshots in a single click.
Our support engineers are physically on-site and available 24 hours a day.
Our customers have grown accustomed to receiving an extremely high level of service, which is one that we strive to provide every single day. Our business depends on your happiness, which is why we go to great lengths to ensure it.
Want more information?

Give us a call or email us:

T: 1-888-5-QUADRA (578-2372)

E: [email protected]

W: http://www.quadranet.com
QuadraNet - Cloud, Dedicated Servers & Colocation in Los Angeles, Dallas, Chicago, Miami, Atlanta, Chicago, and New JerseyNEW LOS ANGELES CENTURY DATACENTER - New Facility Means Great Deals! My Skype is: QuadraNet.Adam