New on LowEndTalk? Please read our 'Community Rules' by clicking on it in the right menu!
LOS ANGELES - 512MB RAM, 15GB STORAGE, 1TB Bandwidth, KVM - $5.81/Month
QuadraNet.com: Data Center Ingenuity, Made Simple.

As one of the leading providers of dedicated servers, colocation, and cloud hosting in Los Angeles, Dallas, and Miami, QuadraNet has been serving the hosting industry for well over a decade. Our cloud hosting is based out of Los Angeles, CA, where QuadraNet owns and operates over 8 data center pods. Our Los Angeles facility alone occupies over 80,000 square feet of data center space and maintains over 250 gigabits per second of connectivity capacity. Individual data center pods are powered by uninterruptible power supplies (UPS) and supported by diesel generators. QuadraNet's award-winning support is provided by our 24x7x365 NOC - your servers are online 24x7, and we'll be here to support them 24x7, guaranteed.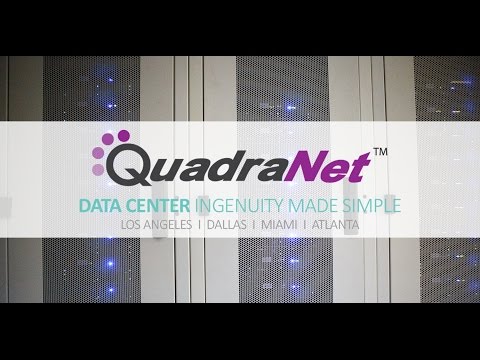 Test IP Addresses / Files:
http://quadranet.com/company/los-angeles/

The InfraCloud Advantage

99.999% Uptime

Blazing fast storage platforms with pure solid state drives

Instantaneous scaling

Backed by our 24x7x365 phone and help desk support

Instant OS reloads via our 100% customized cloud panel

Multitude of OS options available

CentOS 5 or 6

Debian 7.0

Fedora 18

FreeBSD 8.2, 8.4, 9.0, 9.1, or 9.2

Gentoo 12.1

RHEL 5.9 or 6.4

Ubuntu 12.10 or 13.04

Windows 2008 SE R2 x86_64


Billing rates:

vCores: $00.003555/Core

RAM: $00.000005/MB

Disk space: $00.000195/GB

Bandwidth: $0.01/GB

IPv4 Addresses: (First Free!) Additional $0.002/hour


Looking to get up and running quickly, or need somewhere to start? Our Quick Plans can help!

---

InfraBlue

vCores: 1

Memory: 512MB

Disk Space: 15GB

Swap Space: 1GB

Bandwidth: 1000GB

Hourly: $00.0079

Monthly: $5.81

ORDER NOW

---

More InfraCloud packages can be found via our website; > http://www.quadranet.com/cloud/

Want more information?
Give us a call or email us:
T: 1-888-5-QUADRA (578-2372)

E: [email protected]

W: http://www.quadranet.com
〓〓 RackNerd LLC - Introducing Infrastructure Stability
〓〓 Dedicated Servers, Private Cloud, DRaaS, Colocation, VPS, DDoS Mitigation, Shared & Reseller Hosting